At Juicy Stakes we value our affiliate partners and believe in rewarding them for their performance. We offer competitive rates to help turn your traffic into real profits. Earn 20% to 35% of the revenue generated from your player referrals, every month, for the lifetime of that player.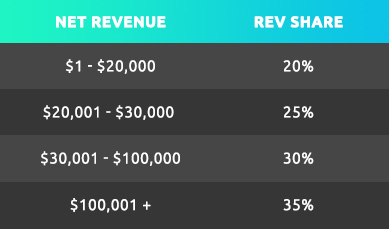 *Net Revenue = Gross Rake + Bets Placed - Bets Won - Bonuses - Chargebacks - RakeBack - Refunds - Admin Fee
No Negative Carry Over Policy
As a Juicy Stakes affiliate, should you end up with a negative balance at the end of any given month, that balance will be cleared. Start every month fresh with a clean slate.
Referral Program
In addition to commissions earned from player referrals, Juicy Stakes affiliates have the opportunity to earn from affiliate referrals too. Promote the Juicy Stakes affiliate program on your website, to your friends and other webmasters and you earn 5% of all your referred affiliates' earnings.